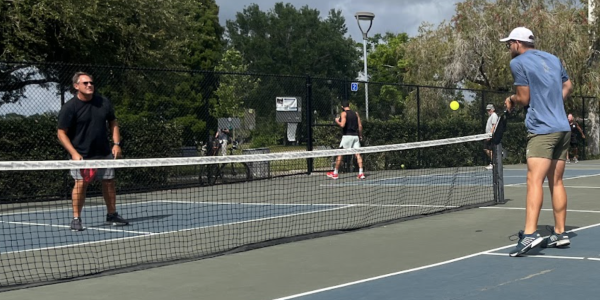 "Whatever it takes to get pickleball courts, I'm game for," Assistant Director of College Counseling Dan Burkett said, reflecting a belief held by many Shorecrest students and faculty about installing courts on campus. 
     There's a good chance you've caught on to the recent buzz surrounding an up-and-coming activity in the sports world called pickleball. In accordance with the "craze of pickleball," as US Assistant Dean of Student Life Stacy Alexander put it, the demand for establishing the sport as a core inner-scholastic activity has expanded. Many believe the installation of pickleball courts at Shorecrest would be an extremely beneficial gateway into a rapidly-growing sport.
     Plans to install courts at Shorecrest have had significant momentum thus far, however avid pickleball player and US Dean of Student Life Ann Marie Hardy said, "We [faculty] have talked about it a couple of times before." Having our own courts would increase, as Alexander said, "movement throughout the day, which is important since we [Shorecrest] only have fitness during 9th grade." Additionally, Hardy said, "[Pickleball] would be a fun way to build communities of students and faculty together."
     Pickleball courts could offer a variety of uses and competition levels on campus. Alexander sees it as an "opportunity during break and community time for students to go out, to be outside, and to be physical," while Burkett believes that it would open doors to "after-school possibilities," such as pickleball tournaments. 
     Furthermore, Hardy admits that pickleball is highly accessible "for all levels of skill and even how in shape you are," meaning the entirety of the Shorecrest student body and faculty could go pick up a paddle and play, as opposed to tennis which has a much higher "barrier of entry," according to Burkett.
     Pickleball courts only require a few basic supplies and could be used by Shorecrest's little ones for a plethora of other games, which make pickleball courts and supplies more economical than other sports facilities, such as swimming pools. US Academic Dean Anne Michelle Frey said, "Pickleball courts can be very affordable."
     Skeptics of the installation ask: where would these courts go? Alexander said, "An outline of a pickleball court with a removable net could be installed at the Landy deck." Some construction plans may even be as ambitious as fitting in "around eight" individual courts near the softball field, as suggested by Burkett.
     These courts already have a queue. Hardy admits that she "would love to [play] every day." Senior Samantha Miller says she would venture onto the courts during "free periods and community time often," and finally, Burkett said he would be going at it "before and after school, basically every day at any chance I would get. I would stop eating at SAGE and go play pickleball at lunch." On-campus pickleball courts would see plenty of action from students and faculty alike, making them a worthy investment of Shorecrest funding.