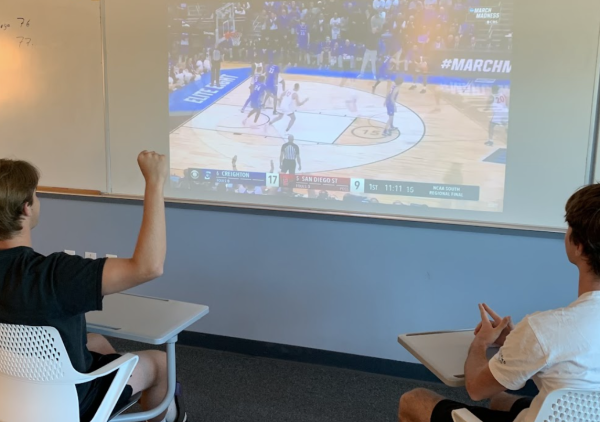 This year's Men's March Madness was one for the books. For the first time in the tournament's history, there was no top 3 seed in the final four. This means the tournament was full of upsets, starting as early as shocking the Round of 32, when number 1 seed Purdue, lost to number 16 seed Fairleigh Dickinson University. Most people expected Purdue to go far since they were a dominant one seed with 7′ 5'' star Zach Edey manning the middle, but they couldn't get it done. 
     After that, the giants kept falling, as one seed Alabama lost to five seed San Diego State, one seed Houston lost to five seed Miami, and the final one seed, Kansas, lost to eight seed Arkansas. Along with high seed teams, all the historically dominant blue-blood teams were out (Duke, Villanova, North Carolina, Kentucky, Indiana, and UCLA), which was a refreshing sight for fans. 
     Shorecrest students also experienced the madness. Senior Cam Lerner said, "It's been cool to see lots of new faces succeeding this year, but also very different." Lerner thought the lack of number one seeds was a refreshing sight, as March Madness is usually either dominated by high-ranked seeds or one of the blue-blood teams. 
     Lerner said, "All in all, March Madness has lived up to its name this year, with the one seeds getting bounced early and the lack of dominance from teams you see do well every year." Junior Luke Heckert agreed with Lerner. He said, "It's been absolutely unpredictable. I mean, history is being made. Not [a single] one seed team is in the final four." 
     This year's unpredictable results were not liked by everyone, however, as sophomore sport fanatic J.P. Rosales said, "I think it's been a great tournament, but the Final Four does feel a bit underwhelming considering that the teams that made it (Florida Atlantic, San Diego State, Miami, and UConn) aren't that big market of teams." 
     Rosales argued that the lack of big market teams make it underwhelming, and that the final four matchups are not as exciting compared to previous years. Rosales said, "Upsets are great, but too many of them can make the tournament a lot less competitive as it goes on."     
     Compared to previous years, many students had this year's tournament as a favorite. Lerner said this year's tournament is "near the top of my list," stating that every game was enjoyable and there were many players that were surprising, such as Markquis Nowell, who led his team, Kansas State, to the elite 8 standing only at 5′ 8". Heckert ranked it in his top 2, behind the 2019 tournament. 
     This year's tournament was filled with surprising teams, such as Florida Atlantic, Miami, and San Diego State. Lerner said, "In terms of seeding, [Florida Atlantic] have been the underdog in every game they've played." 
     Another Florida team that was surprising was Miami, and Rosales credited their coaching for their surprising success. He said, "Jim Larrañaga has outcoached every team he's faced so far. He's getting a lot of production out of his whole team." From a different perspective, Heckert believed the most surprising team was Purdue because of how disappointing they were this tournament. 
    This tournament was a rollercoaster. The ups and the downs by many supporters or teams will make it one of the most memorable tournaments of all time.