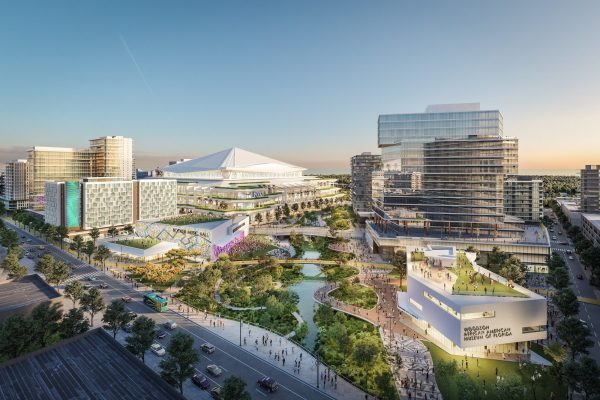 It is no secret that for years Tampa Bay Rays fans in St. Pete have had to attend one of the worst stadiums in the MLB: Tropicana Field. Sophomore and self-proclaimed Rays fanatic Jake Diner described the current stadium as "dirty."  Diner said, "It doesn't have an exciting atmosphere. Fans don't want to travel to St. Pete to sit in a gross environment." The Rays have recently been very successful, but the declining state of the Trop has left many fans less interested in attending games and paying attention to the team. 
     The burning question around St. Pete for the last few years has been: what's going to happen with Tropicana Field? Well, there's finally an answer. 
     With Tropicana Field having the second-lowest attendance rate in the MLB with 13,671 fans per game, St. Pete Mayor Ken Welch decided on a plan to renew the Trop. After stating the requirements he wanted to be implemented in the proposals, he narrowed the options down to four, and ended up selecting the Rays & Hines proposal. 
    This plan includes a brand-new indoor/outdoor stadium, 2,500 seat entertainment venue, 700 hotel rooms, 1.4 million square feet of office space, 600 senior living residences, and 20 new city blocks. The goal of this new stadium venue is to bring entertainment to the area.
     Out of the 4 plans, Welch favored the Hines & Rays plan because it put an emphasis on equity. Welch stated that he wants to commemorate the history of the Historic Gas Plant District by constructing an African-American history museum along with affordable housing. The selected plan implements a redevelopment of the Woodson African-American Museum. 
     When Diner was asked what he likes about the selected plan, he said, "I like it because it's better for the community around it. There's more affordable housing, [an] African-American museum, [and a] music hall. They're prioritizing a smaller stadium and more land around the stadium."
     The low attendance rate at the Trop is one of the reasons the Rays do not have as many profits as most other MLB teams; this had the most significant influence on the redevelopment of Tropicana Field, which will hope to bring in more profits. 
     The one risk St. Pete may face is whether the attendance rates will increase after the excitement over the new stadium dies down. A similar example of this is LoanDepot Park in Miami, built in 2012. The Miami Marlins had extremely low attendance rates before this stadium. After the stadium was built, the stadium increased attendance for only a couple of seasons.
     Sophomore and Rays fan Cooper Register said, "I think it will [maintain a stable, increased attendance] because if [the stadium] has more things to do, it'll bring more people because the old stadium didn't have much to do, so not a lot of people want to go."