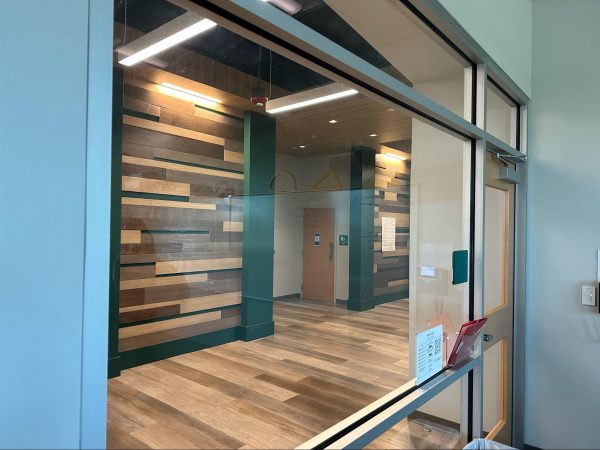 Six lives were taken in a recent school shooting in Nashville, Tennessee, at a private elementary school. According to the New York Times, the assailant entered by shooting through locked glass doors. Six lives were lost due to fragile glass. 
     The glass walls of Charger Commons's classrooms pose a similar fragility. The classrooms were designed through a collaborative effort of teachers, parents, students, and administrators to provide students with an open, friendly environment, reflecting Shorecrest's dedication to cultivating collaboration. The glass walls of Charger Commons do provide a warm and welcoming learning environment. However, as Pre-Calculus teacher Patti Bullock observed, "When students or anyone walks past the classroom, they are potential distractions to my students." Furthermore, she fears that "someone will be able to shoot through the glass and walk in" in an active shooter situation–a valid concern given the circumstances of the Nashville shooting. 
     The glass is laminated to provide shatter-resistant qualities, meaning it "typically breaks safely and remains an integral part of the opening. The plastic interlayer minimizes splinters and glass fragments, reducing the risk of injury or property damage," according to the company. However, this glass is not bullet-resistant.
     This is not to say that Shorecrest is not dedicated to the safety of the school. In fact, it is quite the opposite. Head of School Nancy Spencer said, "Shorecrest was the first private school in the Tampa Bay area to have campus protection officers." The school currently has "two armed GardaWorld school protection officers on campus each day that school is in session, providing immediate attention to any crisis situation. Additionally, a St. Petersburg Police Officer is on campus for 3.5 hours every day. The visible police presence serves as a deterrent as well," according to Spencer.
     Shorecrest's CFO Lisa Wylie added, "The school will be implementing a crisis alert system in the next few months which will facilitate faculty/staff's ability to access emergency notification buttons immediately and provide the exact location of any crisis." Shorecrest is also introducing an addition to the administrative staff on July 1st: a Campus Safety and Security Coordinator. Additionally, starting next year, the school will be implementing "planned security key card building access for faculty/staff and Upper School students." From my perspective, the problem is not a lack of dedication to certain safety issues, but a lack of awareness of the severity of them. 
     While Wylie asserts that "safety and security is a very high priority of the school," and Spencer affirms that "the physical safety of our students, faculty and staff continues to be a top priority," it seems to me that administrators in the past have tended to prioritize the "feel" of the campus over certain security measures. Spencer said, "We want to be warm and welcoming to current families, but also [to] prospective families." Wylie added, "We don't want people to feel like they're in maximum security." Shorecrest's administrators assert that "it's a balancing act."
     Tony Sparks, a special operations veteran of 25 years and owner of private security company Phantom Services, has a different outlook on safety, one he likely developed in the 10 years he was responsible for the deterrence training for the US State Department for hundreds of US embassies. Sparks said, "There is no balancing comfort at a school with security. There's no such thing anymore."
     Instead of a balancing act, Sparks strongly suggests the implementation of gates and Mylar film on glass walls. He claims, "The inconvenience of schools putting in [safety measures]…is a perceived inconvenience. It's not real. And shame on anyone that doesn't want that one level of protection that can increase the odds of preventing a shooter from coming in by over 90%." 
     In response to Shorecrest's existing security policy, Sparks said, "A license plate reader is nice, but that only deters stable people trying to commit petty crime. An active shooter doesn't care that their license plate is going to be seen because most active shooters know that they're going to die in the situation. A gate is the proper deterrence." 
     In response to the glass, Sparks suggests the implementation of Mylar, "a piece of film that goes on a window and makes it bullet resistant. There's no such thing as bulletproof. Mylar will stop 9 mm and .45 cal handguns." Furthermore, Sparks said that Mylar is "cost-effective" and "as simple as tinting windows on a car." Additionally, the current glass company makes two other, safer types of glass: bullet-resistant, which is tested with ballistics, and forced entry-resistant, which is tested with both ballistics and other attack tools. 
     There were 848 school shootings between 2013-2021; Shorecrest is not immune to these tragedies. With such a simple solution, it would be a mistake for Shorecrest's administrators to neglect these specific safety concerns–the presence of non bullet-resistant glass walls and the lack of gate–any longer.