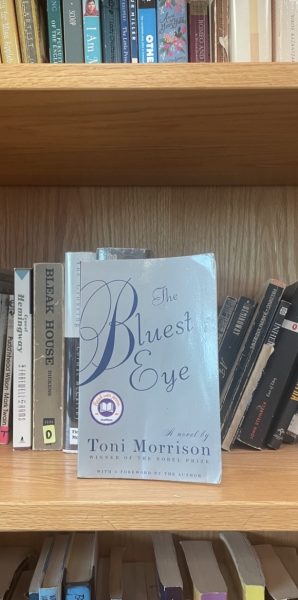 Florida is in peril as accusations of censorship and book banning continue to swirl around Governor Ron DeSantis. In response to concerns about harmful content, amendments to House Bill 1467 have created a rigorous review process of classroom materials that allows parents to petition to remove any pornographic or "inflammatory" instructional content from a school setting. Now, teachers anxiously wrap their bookshelves as the gift of education diminishes to a sorry lump of intellectually-stunting coal. 
     While the Florida state government may have had the best of intentions in creating this legislation, it appears that its implementation has been anything but effective. This ineffectiveness is largely due to the fact that the bill mandates, yet critically fails to define, "noninflammatory" content. Subsequently, districts are removing uncomfortable books on the grounds that they are inflammatory, causing titles—The Handmaid's Tale and The Hate U Give in Martins county (according to PEN America) and The Bluest Eye in Pinellas county (according to AXIOS Tampa Bay)—to fall from the shelves and, in Florida public high schools, into obscurity. 
     The removal of such books deprives students of diverse perspectives, disadvantaging them in comparison to their private school counterparts in the college process and beyond. Considering a well-read student body is critical to academic success and intellectual growth, these book bannings do not bode well for the future of education in Florida.
     Take, for instance, Toni Morrison's The Bluest Eye, which follows the journey of Pecola, a Black girl who longs for blue eyes. This novel explores disturbing themes such as sexual abuse, physical and mental trauma, and the struggles of Black women in an anti-Black, misogynistic world. Despite its critical acclaim and Nobel Prize-winning status, The Bluest Eye has faced calls for removal due to its "explicit description of illegal activities."
     However, the discomfort that this novel evokes is a critical component of education, allowing students to develop empathy and to confront the harsh realities of the world around them. By removing such books, we risk ignoring the voices of those who have experienced unfathomable trauma and missing opportunities for personal growth and understanding. 
     Schools also hastily remove children's books featuring non-white protagonists, which raises concerns about the state of diversity and inclusion in education. In Duval County, for instance, the library recently removed "Dim Sum for Everyone," a charming book that explores Korean cuisine through the eyes of a young girl and her family. Dozens of other books featuring Black, Indigenous, and People of Color (BIPOC) characters have reportedly met a similar fate, suggesting a troubling trend in which diversity is being treated as an inflammatory concept. 
     Ironically, this starkly contrasts the state's professed intention of "including only instructional materials that accurately portray the ethnic, socioeconomic, cultural, religious, physical, and racial diversity of our society," as outlined in policy 1006.31. Is this a reflection of a broader discomfort with diversity, or is it simply a symptom of the fraught and often politicized landscape of education policy in America? Whatever the case, the implications for children's education and global awareness are concerning. 
     As these accusations of censorship swarm Ron DeSantis, some wonder if his policies are leading the state toward an Orwellian future. While DeSantis is not technically banning books outright, his bill is irresponsibly vague. With no objective limits on what can be removed, all material is endangered and at the mercy of reviewer and parental interpretation. Without a shared understanding of what constitutes acceptable material, censorship is becoming the norm rather than the exception. It seems regulating materials has prioritized partisan agendas above creating healthy, informative curricula. In a society that values free speech and intellectual curiosity, this should give us all pause.