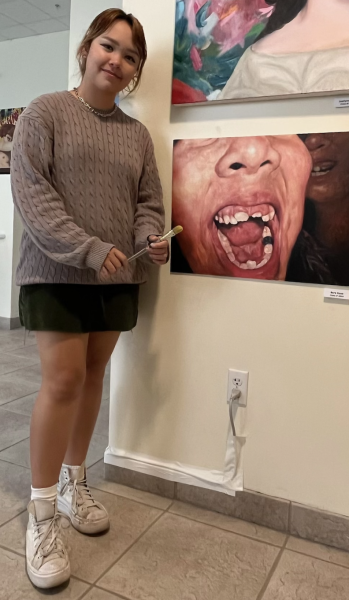 For senior Sara Rose, art is a lifelong passion and a way for her to affirm individuality in a conformist world. She started creating art in kindergarten, but fell in love with the craft at eleven, when she reportedly started "taking it seriously." Since then, summer camps and Shorecrest classrooms have fostered her talent, culminating in a robust AP portfolio and now the prestigious National Gold Scholastic Art Award.
     Rose's artwork entitled Grow Up has garnered national attention with the Scholastic Award and will be featured in Carnegie Hall.  
    Rose proudly displayed her award-winning piece, and reflected on what this recognition means to her and how her love for art has shaped her life.  "I definitely was not expecting this," said Rose with a humble smile. "It still hasn't really hit me, but it's an honor to represent Shorecrest through my art. Although seeing it hanging in Carnegie Hall will probably make it hit me, it's almost scary to think about." 
     "I love art because it allows me to inspire others," Rose explained. "Through my art, I can challenge norms, make people question, or even feel uncomfortable. I want my art to provoke emotions and start conversations."  
     The painting of her sister's mouth sneers, perhaps taunting or berating the viewer. Either way, it is an uncomfortable piece. Rose reflected on this: "I know people get caught off guard by this piece easily, but that's the reaction I intended. I like to paint things that people question and fear- in a way." 
     Overall though, she emphasized that Grow Up  is about the imperfections and complexities of growing up. "The responsibilities of life and high school are a lot to handle. I've had my rough patches, as well as my good patches in the course of figuring things out which I think everyone can relate to."
     Rose's art teacher, Charla Gaglio, couldn't be prouder of her student. "I wasn't that surprised because Sara is incredibly talented,"  Gaglio remarked with a beaming smile. "She has been a purposeful and dedicated student in my art classes, and it's amazing to see her growth as an artist." Gaglio believes that the recognition of students like Rose is a testament to the importance of art in education.
     "Art is not just about creating pretty pictures," Gaglio emphasized. "Art is a form of self-expression that allows students to explore their inner worlds. It's a vital part of being human, and it enriches our lives in so many ways."
     As for Rose's plans for the future, she intends to pursue a major in Studio Art in college while continuing to hone her craft. She also hopes to write on the side, as she believes that art and writing can complement each other in powerful ways.
     She encourages upcoming students in art to stick with it, "if you enjoy art do it for yourself and have fun with it. Just remember the importance of being individual and showing who you are."