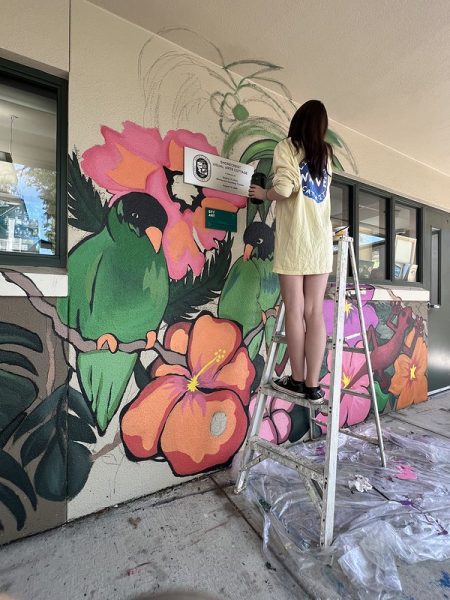 Service Week is a time for Upper School students to bond with and give back to their community while earning volunteer hours required for graduation. One of the many service opportunities offered was the community arts mural, an activity chaperoned by Visual Arts Department Chair Charla Gaglio, who was accompanied by Upper School digital arts and photography teacher Allison Roberts. This year, the Shorecrest arts community painted two campus murals instead of just one, which is what they've done in the past.
     The students participating had the honor of painting a mural outside of the administration building, most commonly known as the "doors to the school." Gaglio used her and her students' artistic talents and imagination to create a mural that represented the community, portraying the smiling faces of Shorecrest students alongside blooming flowers.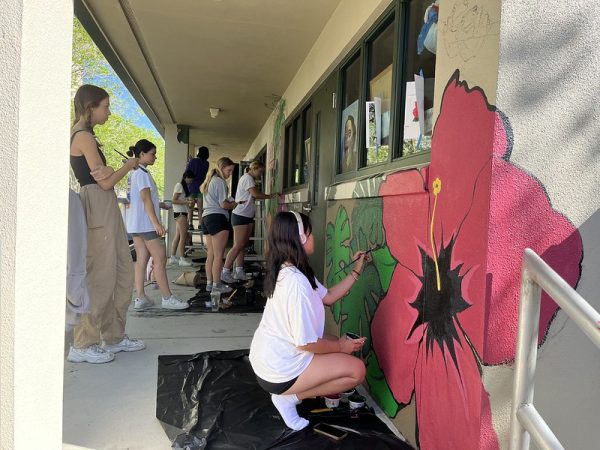 Senior artist Benny Ames was excited to take on the challenge this year. Ames did not work on the mural last year due to Junior GPS, but he did in his freshman year. "It will definitely differ because of the people working on it now, but I think it compares to the previous years by being an engaging and happy experience for everyone," Ames said. "I undoubtedly think it will improve from the previous years because we will be working in the shade this time, which is an added bonus."
     Ames was also proud that the work would be displayed on campus, whereas last year's project was painted on the building of a local business, Friends of Strays. "I think art around the school is a unique opportunity for people because it allows everyone to see what the artists here can do," he said, "Shorecrest has a community of such talented artists and showcasing their skill is incredibly important, especially since artists here can sometimes get the short end of the stick. Especially in comparison to other extracurriculars and programs like the sports program here."
     While Service Week allows students to branch out into the Florida community, it's important to honor the work done on campus throughout the years, including the murals painted by Shorecrest's gifted artists.