Shorecrest's homecoming weekend started bright and early this year, hours before the actual Homecoming Dance. On October 21, 2023, in celebration of the Centennial, the Shore to Shorecrest 5k event celebrated the community's passion for togetherness and spirit.
     The main event, the 5k, started at 8 a.m. at Flora Wylie Park and finished right outside of the Sher and Razook Center on campus. After the 5k, there was the Sparky Sprint, where anyone under eight could participate in a 50-yard dash with Sparky, Shorecrest's mascot. The final component was the Health and Wellness Village, decked out with 15 booths from different event sponsors and a pancake breakfast from the Shorecrest Dads.
     The final number of participants exceeded the projected 300 5k runners and 100 Sparky Sprint kiddos. Many registered for the Sparky Sprint day-of or showed up to volunteer and hang out in the village. 
     Director of the Ross-Roeder Institute and Chair of the 5k Committee Earl Walton said that the 5k "literally connects the birthplace of the school to our current location. Runners will start at the same location that the school was 100 years ago." 
     Walton further explained that one of the pillars of the change accompanying the Centennial is health and wellness. The 5k recognizes a renewed community effort towards health and wellness, whatever your ability.
     Senior Ellis Hart, who finished first in the race, said, "I thought it was a great opportunity for the young kids, the alumni, and the adults in the community to all come together and participate as a group." Participation is the key word.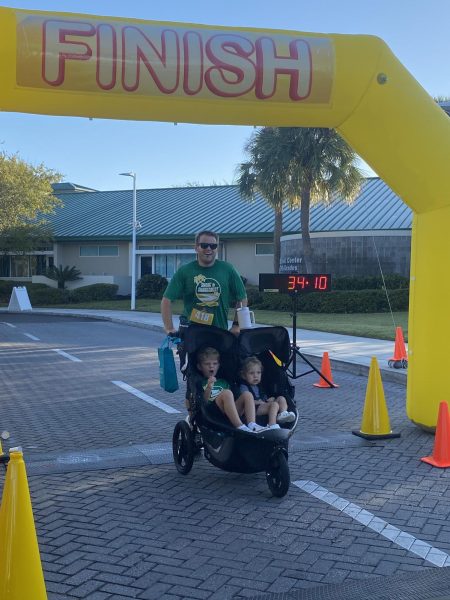 "We've also been really focused from the start on making sure that it's understood that this is an event, not a race. If you want to compete and run your fastest 5k, you can do that, if you want to walk with a club or walk with a group, you can do that, so we have all kinds of different opportunities," said Walton.
     Hart considered the 5k a race for himself. Hart said, "I felt it was appropriate to not only support running, but support our community." While he ran hard, Hart appreciated the communal nature of the event.
     Third grader Rohini Bansal, who participated in both the 5k and the Sparky Sprint, said, "I did walk, speed walk, jog, run, and sprint." She participated at all different speeds so that the event was fun for her and the friends she participated with.
     "Well, I liked that everyone got a medal," said Bansal. To corroborate the mission of participation, everyone received a swanky, gold and green medal upon completion. However, the medals celebrated more than just completion, they celebrated the "positive and unifying," as Hart said, experience of the event.
     The Shore to Shorecrest 5k was a once-a-centennial event that captured Shorecrest's spirit. As Walton said, "It's a hundred years of history in 3.1 miles, or 5k."